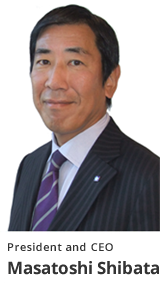 Actions to protect the
environment of the 'Earth'.
Someone must support the challenges
in our backyard.
SIBATA SCIENTIFIC TECHNOLOGY
takes on this mission.

SIBATA SCIENTIFIC TECHNOLOGY was founded in the year 1921, in Hongo,
Bunkyo-ku, Tokyo as a manufacturer and distributor of laboratory glassware.
Since that time, the Company has continued to develop 'general-purpose scientific equipment' that supports research and development for government, university and industry, 'environmental measurement equipment' that complies with increased needs for environmental monitoring and measurement in the fields of occupational health, air environment and water
contamination, etc., and 'large chemical plant devices' and 'animal experiment devices' in response to demands in the chemical and pharmaceutical fields.
In the 1990's, meanwhile, the Company acquired ISO9001 certificate, a global quality standard in 1995 in its efforts to promote a path toward a global industry standard.  
We, living in the 21st century, have as our mission the challenges to protect the earth's abundant nature and provide comfortable lives for all, and to pass on our achievements to succeeding generations.
With such conscious efforts, various environmental protection initiatives are now being developed and implemented throughout the world.
SIBATA SCIENTIFIC TECHNOLOGY continues to make products that contribute to environmental protection, utilizing achievements and technologies of more than 90 years in this field.
We will continue to improve technology, quality and reliability at SIBATA SCIENTIFIC TECHNOLOGY in order to dedicate ourselves to the global development of scientific technologies and global environmental protection.